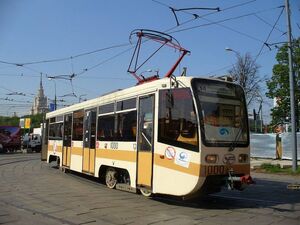 71-621 - experienced Russia vysokopolny Four-tram. It was built in Ust-Katav vagonstroitelnom plant (UKVZ) in 1999 in a single copy. Customer development coach made Moscow due to the fact that older cars Ust-Katav plant incompatible in size with some depot buildings. The car is based on the wagon 71-619, it differs from it somewhat shortened body. The car was delivered in Moscow in late 1999, he was equipped rheostate-contactor control system and polupantografom German production, dismantled soon after the start of testing. The car entered the depot name Apakova received park number 0102, since 2001, 1000, from 2008, 1005. As of summer 2009 does not work. Problems with clearance have not been fully resolved, and orders for new cars has been received.
Ad blocker interference detected!
Wikia is a free-to-use site that makes money from advertising. We have a modified experience for viewers using ad blockers

Wikia is not accessible if you've made further modifications. Remove the custom ad blocker rule(s) and the page will load as expected.