71-619 (KTM-19)
Number built
Built from
from 1994
Length
15.400 mm

Width
2.500 mm

Height
3.160 mm

Maximum power
75 km/h
Passenger capacity
30 seats
184 standing
Manufacturer
UKVZ
KTM-19, 71-619 - tram designed and mass-produced since 1999 in Ust-Kataw Wagon Factory (UKWZ) Russia. KTM-19 is the most mass-produced vehicle in the factory. Despite the use of stage design and construction of models of design solutions from KTM and KTM-5-8, is a totally new generation of tram cars. This tram runs mainly in Russian cities and in several foreign. Production of this model, saved a lot of lines, and tram network, even before the disappearance.
Tram has two names: 71-619 schematic and semiofficial KTM-19. 71-619 indication is the name of the schematic for a number of machines used in the former USSR, 71 means the tram, 600 - the number of factories (UKWZ), and 19 - the model number. Additional letters stand for modifications.
Name semiofficial KTM-19 is a model Kataw's Tram 19 Additional letters stand for modifications. In a similar manner determined trams produced in the entire Soviet Union, for example, means ЛМ tram produced in Leningrad (now St. Petersburg).
Background KTM-19
Edit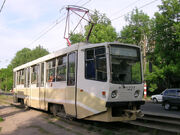 After the collapse of the Soviet Union in the 90s based communications the tram in Russia were technologically obsolete trams type-5 and KTM KTM-8. The situation was different in only two of the country's largest cities, Moscow and St. Petersburg - Moscow were the backbone of the rolling stock manufacturing trams Czechoslovakia (Tatra) and St. Petersburg provide support for local production cars (ЛМ series). In smaller towns, rolling condition was very bad. Prevented the purchase of foreign tram track width (1520 mm in the countries of the former Soviet Union, while in other European countries usually 1435 mm), and the cost of developing and then building a truck is one of the largest construction costs . In Ust-Wagon Factory Katawskiej been thus decided to develop new types of trams. Created several prototypes of the KTM-11 and KTM-16, but went into mass production until KTM-19. This enabled the modernization of tram fleet of Russian cities. In the production of specific models and then there were the various modernization and structural changes, which tram 71-619А is very different from the prototypes 71-619.
Construction of tram
Edit
Differences compared to previous models
Edit
The KTM-19 used many of the solutions of the previous models, KTM-5, KTM 8. The main differences are the elongation and narrowing include boxes. Used to measure the door opened just as the buses. Fixed a cab controls, an improved surface materials , as well as the light changed to a more angular (KTM-8 has a round).
KTM-19 has all the seats set forward facing. Under the left wall (the one without a door) are single seat, as in Konstal 105N trams and derivatives. By contrast, the right against the wall (with doors) are subject to a double seat. The seats are fixed, as in a tram Konstal 105N - on a metal frame attached to the floor and walls .
Tram KTM-19, like the previous models of KTM and KTM-5-8 and Polish tram Konstal 105N has two-axle bogies (BoBo axle). Carts come with a tram KTM-8 (with the difference that has been strengthened, since increased weight of the vehicle). Version of Rostov (STANDARD) is almost identical to what version of the broad gauge bogies, only slightly narrower) .
Pantograph
Edit
Initially, the KTM-19 used the Vienna-type pantographs, used very often in many different trains. As a result of modifications and repairs standard pantograph was replaced połówkowymi. However, in all types of modifications in addition to 71-619А (which uses only pantograph Half) and 71-619КС (which retains the standard pantograph) can be found in both copies of the Viennese pantographs.
Modifications
Edit
71-619 - two prototype cars built in 1999, one of them travels to Moscow, the second in Chelyabinsk.
71-619КТ - with the revised electronic version, produced by Kanołus.
71-619КС - two-seater version with a cabin designed for driving (the type used only in Moscow).
71-619КМ (К-01) - version with a two-stage suspension type trucks Miegi; is electronically controlled air-conditioning and an array of cab motorniczego.
71-619К-02 - version built specifically for Rostov on Don, having a track width of 1435 mm (normalnotorowy, while in countries of the former Soviet Union used broad gauge track - 1520 mm) .
71-619КТМ (КТ-01) - range of modifications such as the 71-619КТ and 71-619КМ (К-01).
71-619КТУ (КТ-02) - modifications such as the 71-619КТМ (КТ-01); STANDARD version is designed for Rostov on Don (also planned for export).
71-619А - version features like 71-619КТМ (КТ-01), in addition to the asynchronous drive, ride in Moscow, Ufa and Zlatoust.
Pros and cons of tram KTM-19
Edit
Advantages
Edit
Very simple and durable construction
Low failure rate
Significantly higher quality and aesthetics as compared to previous models of this company
Low price (up to four times less than the tram Western)
The possibility of connecting up to four cars in the driving multiple (in practice, be used up to two)
Carts broad gauge (track spacing causes a much lower cost-effectiveness of buying cars from the West)
High floor (now the tram has produced most of the poor or even middle floor)
Modify multiple causes, that not all the parts fit together
Outdated technology compared to the cars produced in Western Europe
The quality of materials and finishes lower than in Western European trams
Cities where ride KTM-19
Edit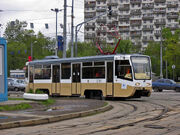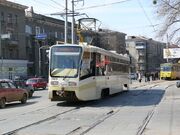 Angarsk - 8 pieces
Chelyabinsk - 9 pieces
Irkutsk - 8 pieces
Izhevsk - 1 piece
Jaroslaw - 36 pieces
Kazan - 6 pieces
Kemerovo - 35 pieces
Kolomna - 3 pieces
Krasnodar - 9 pieces
Krasnoyarsk - 4 pieces
Magnitogorsk - 15 pieces
Moscow - 355 pieces
Naberezhnye Chelny - 4 pieces
Nizhnekamsk - 7 pieces
Nizhny Novgorod - 21 pieces
Novokuznetsk - 2 pieces
Novosibirsk - 4 pieces
Novotroitsk - 3 pieces
Novocherkassk - 3 pieces
Omsk - 2 pieces
Perm - 27 pieces
Prokopyevsk - 4 pieces
Rostov-on-Don - 19 pieces
Saratov - 23 piece
Stary Oskol - 8 pieces
Tomsk - 14 pieces
Ufa - 2 pieces
Ulan-Ude - 20 pieces
Ulyanovsk - 4 pieces
Usole Siberian - 2 pieces
Volgograd - 2 knocking
Vovchansk (Sverdlovsk Oblast) - 1 piece
Zlatoust - 6 pieces
Kazakhstan
Edit
Uzbekistan
Edit
Ad blocker interference detected!
Wikia is a free-to-use site that makes money from advertising. We have a modified experience for viewers using ad blockers

Wikia is not accessible if you've made further modifications. Remove the custom ad blocker rule(s) and the page will load as expected.